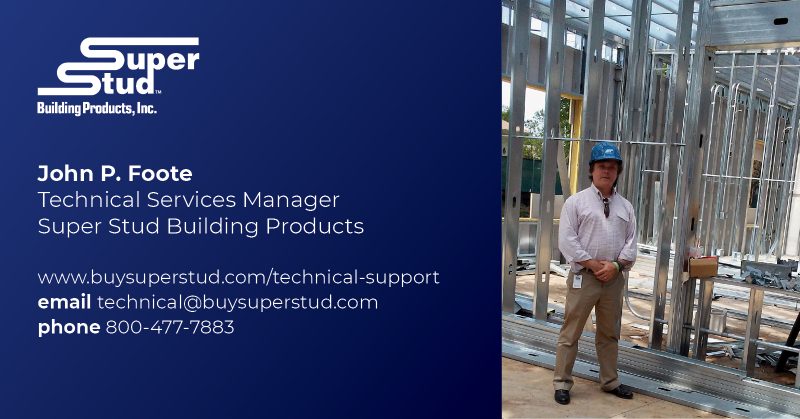 EDISON, New Jersey – Super Stud Building Products, Inc., the multi-regional steel framing and accessories manufacturer, has expanded its technical engineering department with the addition of Technical Services Manager John P. Foote. John currently manages engineering projects for Super Stud, providing technical support of company products to architects, engineers, contractors, building owners, distributors and to Super Stud sales management staff. John, alongside Director of Engineering Don Allen, P.E., LEED AP, provides complete technical assistance as well as providing steel mill certifications and product specification sheets to internal sales staff and outside customers to complete Cold-Formed Steel (CFS) building material orders.
John manages the workflow of incoming technical drawings, specifications and engineering requests. John ensures all required design documentation is received and oversees project coordination and close-out. John is responsible for the quality assurance/ quality control of drawings as well as oversight of Super Stud Engineering Services, acting as the liaison between the technical engineering departments and clients, both in the office and on-site. Prior to joining Super Stud, John earned a graduate certificate in Biotechnology from Boston University and served as Project Development Manager of S&T Construction, and New England Territory Manager for Northeast Construction Materials Corp. He previously owned and operated the Maple Leaf Malt & Brewing Company in Wilmington, Vermont, a personal entrepreneurial endeavor.
Super Stud Building Products' Technical Engineering Team is Single-Source Building Product Partner During the Design and Construction Process, Providing Comprehensive Architectural Design Support and Engineering Solutions for architects, engineers, contractors and builders. By participating in the project planning process, Super Stud Building Products' Technical Engineering Team ensures that your project incorporates up-to-date design standards and the most cost-effective utilization of cold-formed products and systems.
Super Stud provides Cold-Formed Steel shop drawings under P.E. engineers' seal in all 50 states. Our Technical Hotline provides an immediate response to all your questions or problems. Super Stud's in-house metallurgical lab is fully certified to ASTM standards and is available to provide product verification and testing, should it be required at any point through the process. Super Stud provides engineering and architectural support for the design professional and sub-contractor from the planning stage through final detailing for general and specific building condition.
For a comprehensive overview of cold-formed steel technical engineering services, please visit our website: https://www.buysuperstud.com/technical-support
About Super Stud Building ProductsSince 1973, Super Stud Building Products, Inc., with its roots in the New York Tri-State area, has been a proud manufacturer of the building industry's most diverse offerings of steel framing components and accessories for use in the construction of commercial, institutional and residential structures. With manufacturing plants in Edison, New Jersey and Hattiesburg, Mississippi, Super Stud is committed to quality products, unmatched service, competitive pricing and timely deliveries across the entire East Coast and beyond. Super Stud plays an active role in the steel framing industry, participating in the American Iron and Steel Institute (AISI), the Association of Walls and Ceilings International (AWCI) and the American Society for Testing and Materials (ASTM), (SFA). For more information, visit www.buysuperstud.com.
###
Media Contact:
Sal Forgione, Marketing Manager
Super Stud Building Products
Phone (mobile): 732-372-8386
Email: This email address is being protected from spambots. You need JavaScript enabled to view it.