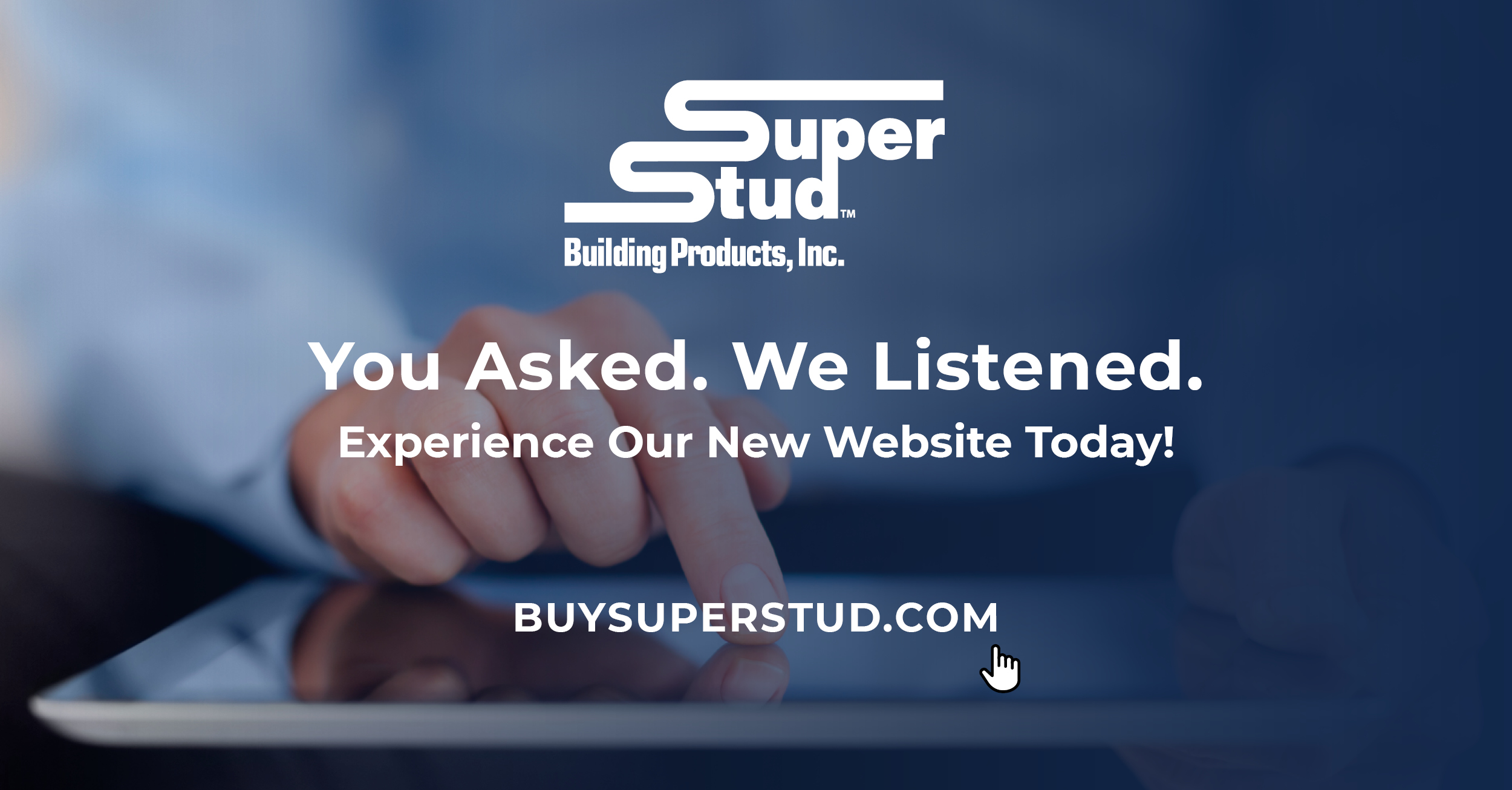 EDISON, NJ – Super Stud Building Products, Inc., the multi-regional cold-formed metal framing members and accessories manufacturer, is proud to announce the launch of its new website. The newly designed website greatly improves functionality and performance on both desktop and mobile displays, offering one-click access to essential product information, instant product submittal downloads, and overall user-friendly page navigation at the office or in the field.Features and functions such as the Super Stud Submittal Builder have been completely redesigned to include instant load times, a product checklist and one-click access to PDF submittal documents with no login required.
New cloud-based document upload features give architects and contractors the ability to upload architectural drawings right from a phone or tablet for Cold-Formed Metal Framing Shop Drawings and technical support. Division 5 and Division 9 Architectural Specifications can be downloaded alongside a wealth of content for architects and engineers.
The new website allows a continued expansion of content offerings to architects, specifiers and contractors.
The new website functions as both an interactive tool and informational resource for Cold-Formed Metal Framing. This revamped digital experience provides our clients with a vehicle to meet aggressive deadlines across the Eastern Seaboard. The new website goes live today, Monday, October 1st, 2018 and uses the same web address: BuySuperStud.com
"Since Super Stud was established in 1973, meeting the needs of our customers has been at the core of what we do. Listening to customer feedback and providing solutions such as our new website is a formula that responds to our ability in providing best-in-class service in real-time. This website underscores our ability to provide prompt service and quality products in a digital age, enhancing all facets of both our business and our customers," said Ray Frobosilo Sr., Super Stud Founder and President. "The new Super Stud website shows our customers that our focus has always been them, and we are happy to translate our love for excellence in service into a highly-functional, informative website. We are proud to say that features such as mobile-friendly allow our contractors a seamless experience both in the office and on site. Our goal is to create tools that make contractors' lives easier, and the launch of our new website is a win for both parties."
Super Stud's Marketing and Web Development teams will continue to optimize and update the website regularly with news of product innovations, new product launches, key business activities, company milestones and special events. Visitors are encouraged to explore the website as well as sign up for direct emails at BuySuperStud.com
About Super Stud Building Products
Since 1973, Super Stud Building Products, Inc., with its roots in the New York Tri-State area, has been a proud manufacturer of the building industry's most diverse offerings of steel framing components and accessories for use in the construction of commercial, institutional and residential structures. With manufacturing plants in Edison, New Jersey and Hattiesburg, Mississippi, Super Stud is a multi-regional steel framing and accessories manufacturer committed to quality products, unmatched service, competitive pricing and timely deliveries across the entire East Coast and beyond. Super Stud plays an active role in the steel framing industry, participating in the American Iron and Steel Institute (AISI), the Association of Walls and Ceilings International (AWCI), ASTM International and the Steel Framing Alliance (SFA).
###
Media Contact:
Sal Forgione, Marketing Manager
Super Stud Building Products
Email: This email address is being protected from spambots. You need JavaScript enabled to view it.