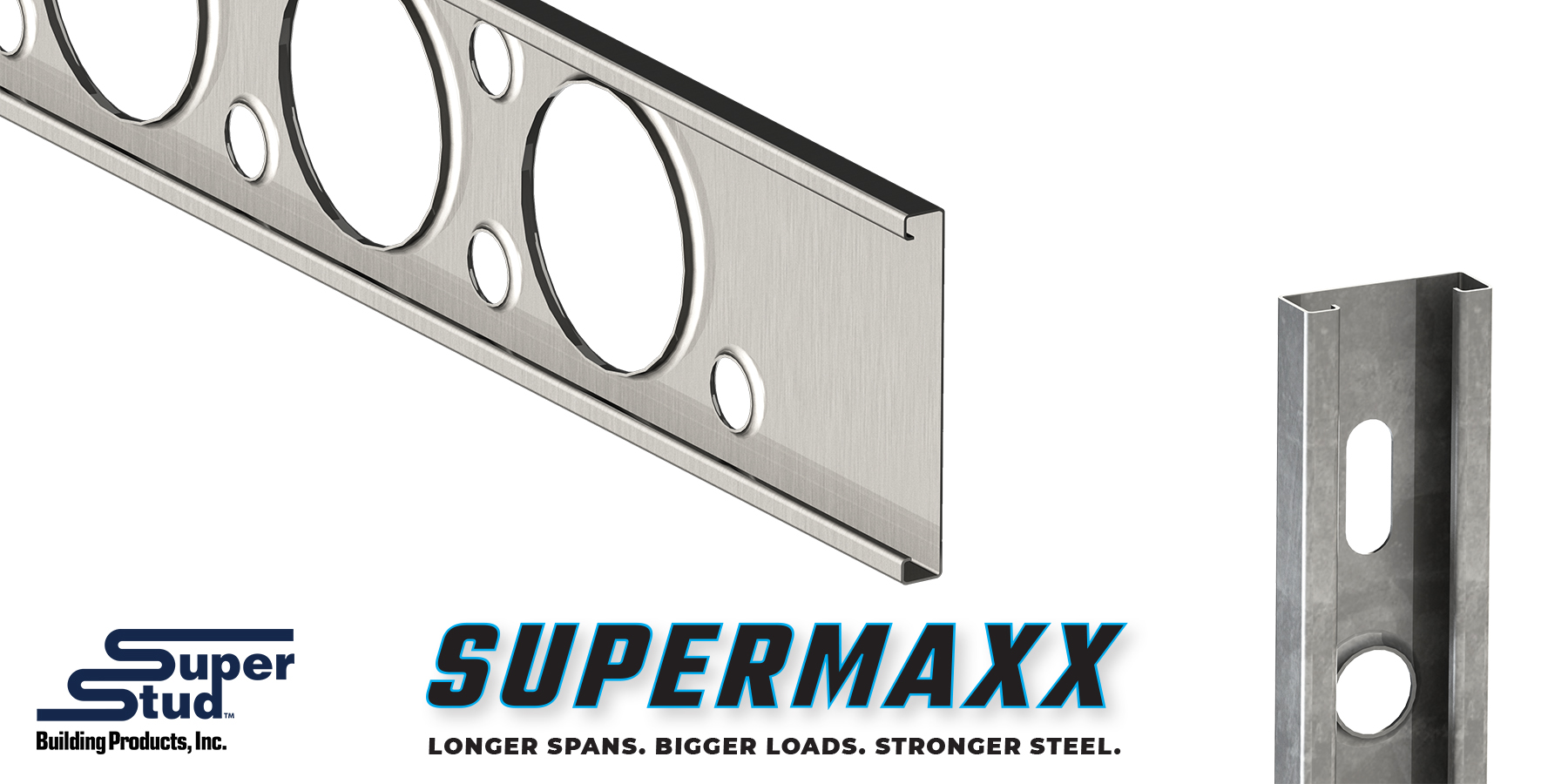 Super Stud Building Products, Inc. announces a revolutionary new floor and wall framing system that dramatically increase floor spans and load capacities. 
 The New SuperMAXX Joist & Stud System from Super Stud
The SuperMAXX system from Super Stud has one of the highest strength-to-weight ratios of any cold-formed steel assembly on the market today. Large stiffened punchouts in both stud and joist provide industry-best accessibility along the length of the web, accommodating all trade installations. In addition to the largest reinforcement punchouts, both the SuperMAXX Joists and SuperMAXX Studs have flanges with double returns for superior reinforcement that dramatically increase spans and capacities.
The SuperMAXX Joist features web depths from 8" to an industry-best 18". The SuperMAXX Stud members have web depths starting at 6". While SuperMAXX was designed as a system, framers and designers can use the stud or joist applications independently. Member sizing for both the SuperMAXX Joist and Stud match standard flange widths and web depths as traditional stud and track members. The proprietary SuperMAXX system is manufactured exclusively by Super Stud Building Products, Inc. and is available throughout the East Coast.
For those who don't need the added spans of the double stiffening lips of the SuperMAXX product, Super Stud is adding larger holes to their traditional stud and track products. Dubbed "Super Stud" and "Super Joist" respectively, the new product offering includes traditional C-shaped joists and punchouts with the larger stiffened punchout pattern. "These new products will really add to our capacities in mid-rise construction," says Don Allen, Super Stud's Director of Engineering. "The added stiffeners really increase both lateral and axial capacity in the studs.  And by having traditional punchouts integrated with the larger stiffened holes, both standard and proprietary bracing methods can be used." 
To learn more about the SuperMAXX System and ordering, call 732-662-6200 or email This email address is being protected from spambots. You need JavaScript enabled to view it..
About Super Stud Building Products
Since 1973, Super Stud Building Products, Inc., with its roots in the New York Tri-State area, has been a proud manufacturer of the building industry's most diverse offerings of steel framing components and accessories for use in the construction of commercial, institutional and residential structures. With manufacturing plants in Edison, New Jersey and Hattiesburg, Mississippi, Super Stud is a multi-regional steel framing and accessories manufacturer committed to quality products, unmatched service, competitive pricing and timely deliveries across the entire East Coast and beyond. Super Stud plays an active role in the steel framing industry, participating in the American Iron and Steel Institute (AISI), the Association of Walls and Ceilings International (AWCI), ASTM International and the Steel Framing Alliance (SFA). To learn more, visit  buysuperstud.com.