The Association of the Wall and Ceiling Industry (AWCI) will launch its updated Steel—Doing It Right® course in Florida in conjunction with the Florida Wall & Ceiling Contractors Association (FWCCA) Annual Executive's Conference in Orlando, February 13-14, 2020.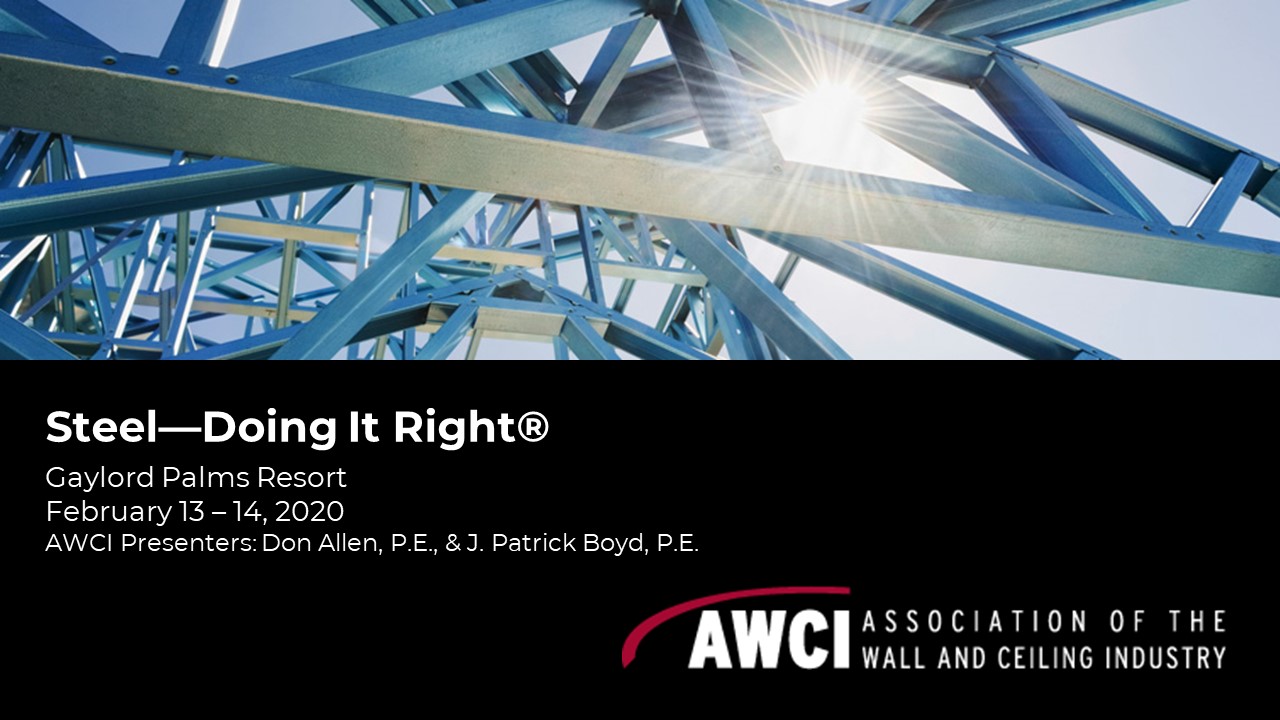 STEEL — DOING IT RIGHT® is a seminar aimed at owners, project managers, estimators, foremen, superintendents, code officials and architects. This seminar is defined to provide a comprehensive understanding of the construction methods and contractors' issues including structural, load-bearing wall assemblies, interior systems, roof and floor assemblies, estimating, quality control and much more. Seminar content is based on industry acceptable standards and best practices. A certificate of completion will be mailed to attendees after the seminar.
The steel seminar convenes at 1 p.m. on Feb. 13 and ends at 6 p.m. followed by a networking session with tabletop exhibits.
Day two, February 14th begins at 7:30 a.m. with a continental breakfast and the seminar presentation concluding at noon.
Steel—Doing It Right® will be presented by two of the industry's best experts in the field of CFS design and construction, J. Patrick Boyd, P.E., and Don Allen, P.E., LEED A.P.  Both Pat and Don bring a wealth of industry experience and insight to the seminar.
To download the course flyer, click here. To register online click here.  
FWCCA has reserved a block of rooms at the Gaylord Palms Resort for the conference. Room rate is $179.00/night – Single or Double. For hotel room reservations, call (877) 382-7299.
Questions? Contact Annemarie Selvitelli at This email address is being protected from spambots. You need JavaScript enabled to view it. or (703) 538-1608.
Event: Steel—Doing It Right®
Dates: February 13-14, 2020
Location: Gaylord Palms Resort, 6000 W Osceola Pkwy, Kissimmee, FL 34746
About Don Allen, Engineering Director
Don Allen, P.E., LEED A.P. is an internationally known expert in cold-formed steel design, and currently serves as director of engineering for Super Stud Building Products. He chairs the Education Committee of the American Iron and Steel Institute, is actively involved in the development of ASTM and AISI standards, and has designed projects in Europe, Africa, and North America. In addition to working for steel product manufacturers, Allen has spent more than a decade in private practice and served over nine years as technical director for the Steel Stud Manufacturers Association, the Steel Framing Alliance and the Cold-Formed Steel Engineers Institute.
About Steel Doing It Right
Steel—Doing It Right® is an intensive, in-depth program covering the complete range of cold-formed steel framing construction for both load-bearing and non-load bearing construction. Steel—Doing It Right® covers the essential knowledge and techniques for the correct installation of cold-formed steel; codes and standards affecting CFS; structural (load-bearing) wall assemblies; wind bearing and curtain wall framing; interior systems; roof assemblies, panelization, production and quality control.
About the Association of the Wall and Ceiling Industry AWCI
AWCI represents 2,200 companies and organizations in the acoustics systems, ceiling systems, drywall systems, exterior insulation and finishing systems, fireproofing, flooring systems, insulation, and stucco contractors, suppliers and manufacturers and those in allied trades. Our mission is to provide services and undertake activities that enhance the members' ability to operate a successful business.
About Super Stud Building Products
Since 1973, Super Stud Building Products, Inc., with its roots in the New York Tri-State area, has been a proud manufacturer of the building industry's most diverse offerings of steel framing components and accessories for use in the construction of commercial, institutional and residential structures. With manufacturing plants in Edison, New Jersey and Hattiesburg, Mississippi, Super Stud is a multi-regional steel framing and accessories manufacturer committed to quality products, unmatched service, competitive pricing and timely deliveries across the entire East Coast and beyond. Super Stud plays an active role in the steel framing industry, participating in the American Iron and Steel Institute (AISI), the Association of Walls and Ceilings International (AWCI), ASTM International and the Steel Framing Alliance (SFA).