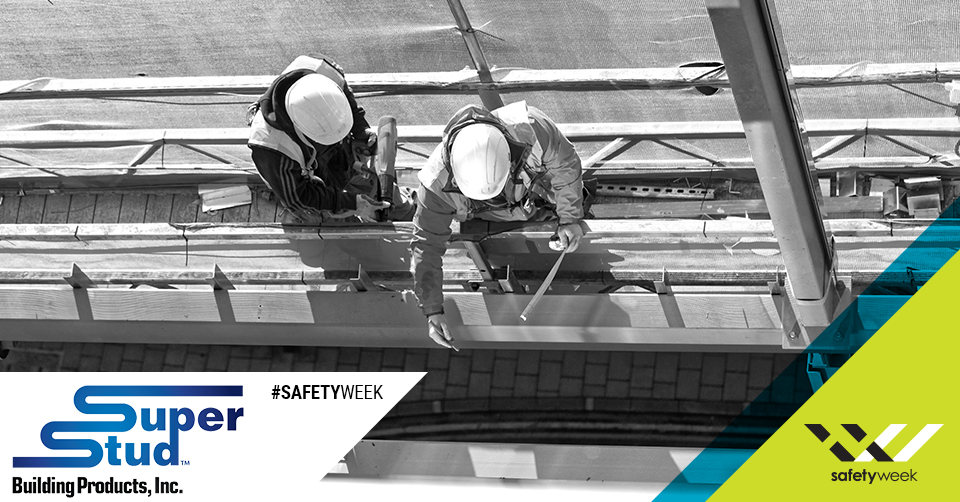 EDISON, NJ– May 7, 2018 – Super Stud Building Products, Inc., the multi-regional steel framing and accessories manufacturer, is taking part in this year's Safety Week events, showcasing the importance of jobsite safety with their contribution of innovations in cold-formed steel framing. Whether an architect, engineer, construction manager, contractor, builder or jobsite employee, Super Stud is committed to making safe choices a reality. The team's commitment to producing quality products with end-user safety in mind has lead to some of the wall and ceiling industries' biggest breakthroughs, including The EDGE™ steel stud.
Super Stud's The EDGE™ is the only steel stud on the market with a patented, triangular safety edge that has no sharp edges along the length of the stud which reduces the chance of injuries during installation. For decades, Super Stud has perfected design innovations that reduce the number of on-site injuries and has expanded our message to markets across the country – all with no additional cost.
The EDGE™ is not only the safest choice for the framing industry but is also a prime example of Super Stud's commitment to safety and well-being of job-site employees. Our product is the most framer-friendly, cost-effective drywall steel framing system in the industry. The EDGE™ provides peace of mind in eliminating the sharpness along a stud's long edges and incorporates a patented hemmed lip for added safety.
"We are committed to not only the safety of installers but also the impact to the bottom-line in eliminating unwanted claims and headaches," says Ray Frobosilo, Founder and President of Super Stud Building Products. "Having realized that up to 52% of insurance claims are attributed to traditional drywall stud injury, we see Safety Week as an opportunity to create awareness and renew the industries focus of having products such as The EDGE™ on the market, all while celebrating the commitment our own employees have in keeping each other safe."
To specify The EDGE™ on your next project visit our website at www.buysuperstud.com.
About Super Stud Building ProductsSince 1973, Super Stud Building Products, Inc., with its roots in the New York Tri-State area, has been a proud manufacturer of the building industry's most diverse offerings of steel framing components and accessories for use in the construction of commercial, institutional and residential structures. With manufacturing plants in Edison, New Jersey and Hattiesburg, Mississippi, Super Stud is committed to quality products, unmatched service, competitive pricing and timely deliveries across the entire East Coast and beyond. Super Stud plays an active role in the steel framing industry, participating in the American Iron and Steel Institute (AISI), the Association of Walls and Ceilings International (AWCI) and the American Society for Testing and Materials (ASTM), (SFA).
About Safety WeekSafety Week is dedicated to raising the awareness of the construction industry's continuing commitment to eliminating worker injury, and to clearly communicate its dedication to a shared culture of care and concern and the belief that every week must be Safety Week. Safety Week is sponsored by members of The Construction Industry Safety Initiative (CISI) and the Incident & Injury Free Executive Forum (IIF). Additional support comes from the Alliance Partners, many of which are non-profit associations. For more information, visit www.constructionsafetyweek.com
###
Media Contact:
Sal Forgione, Marketing Manager
Super Stud Building Products
Phone (mobile): 732-372-8386
Email: This email address is being protected from spambots. You need JavaScript enabled to view it.