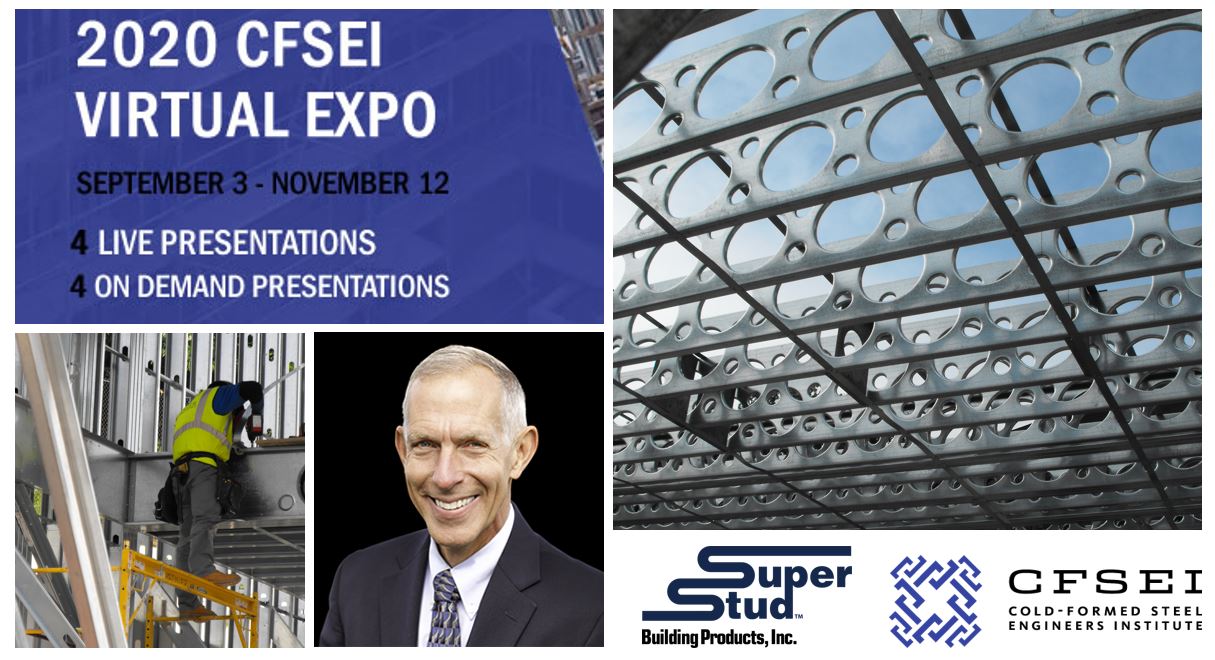 The Cold-Formed Steel Engineers Institute CFSEI Virtual Expo 2020 is designed for architects, builders/contractors, and engineers, with an educational program geared toward both skilled cold-formed steel (CFS) framing professionals as well as newcomers. The Expo will provide opportunities for education in cold-formed steel framing using online tools and methods. This eight-series webinars expo is the only one of its kind dedicated to the cold-formed steel framing industry. CFSEI Virtual Expo will provide both interactive "live" sessions and flexible "on-demand" sessions.
The cost for all 8 presentations at the virtual CFSEI Conference 2020 is $50 per person for CFSEI Professional and Corporate Members, Free for CFSEI Student Members, $50 per person for Steel Framing Alliance Members, and $200 per person for Non-members. Super Stud's Don Allen will be presenting at the conference on September 3 at 3 pm EST. His presentation, entitled 'BOOM! Acoustics for Cold-Formed Steel Wall and Floor Systems Webinar,' will cover acoustical best practices and structual framing methods designed with acoustics in mind.
Register for the CFSEI Virtual Expo online today!
BOOM! Acoustics for Cold-Formed Steel Wall and Floor Systems Webinar
WHEN: September 3, 2020 - 3:00 pm Eastern Standard Time
WEBINAR DURATION: 1+ hour of lecture, followed by discussion and questions. (1.5 hours total)
PRESENTER: Presented by Don Allen, P.E., LEED AP, SECB, Super Stud Building Products, Inc.
CONTINUING EDUCATION: 1.5 PDHs
DESCRIPTION: As structural engineers, we are very good at designing buildings for loads and resistance, but typically have not had any formal training in things like fire ratings, acoustical ratings, air/vapor/moisture barriers, and how all of these attributes are affected by the structures we design. Unfortunately, this presentation won't be long enough to cover all of these issues, but it WILL give you a good foundation in acoustics for structures and help you understand how your structural design will affect acoustical ratings of floor and wall systems. As cold-formed steel (CFS) makes more inroads into mid-rise and multi-family structures, acoustics are becoming more of an issue. After attending this presentation, you will better understand what STC and IIC are and how they are measured and interpreted, and the differences between field-measured and lab-measured values. You will also learn how things like stud thickness, joist spacing, and even connection details like ledger framing can help or hurt acoustic transmission. You will learn about the strategies that architects are using (or trying to use) to achieve better sound performance, as well as products available for this purpose that may affect structural performance. This presentation will be accompanied by a multi-page detailed handout with charts, diagrams, and pictures illustrating the principles discussed. It will also include references to code-mandated acoustical performance, and address how your design will affect that performance.
WEBINAR MATERIALS The day before the webinar, participants will have access to electronic versions of the following:
Presenter's notes
Evaluation Form
Attendance Form
About Don Allen, P.E., LEED AP: Don Allen, P.E., LEED AP, SECB is an internationally known expert in cold-formed steel design. He is Director of Engineering for Super Stud Building Products, Inc., focusing on product development and engineering for multiple lines of products including steel framing, magnesium oxide structural floor sheathing, steel structural wall panels, exterior insulation finishing system (EIFS), and steel doors. Allen chairs the Education Committee of the American Iron and Steel Institute (AISI) and is actively involved in the development of ASTM and AISI standards. He has designed projects in Europe, Africa, and North America. In addition to working for steel product manufacturers, Allen has spent more than a decade in private practice and served over nine years as Technical Director for the Steel Stud Manufacturers Association (SSMA), the Steel Framing Alliance (SFA), and the Cold-Formed Steel Engineers Institute (CFSEI). He can be reached at This email address is being protected from spambots. You need JavaScript enabled to view it..
About Super Stud Building Products Since 1973, Super Stud Building Products, Inc., with its roots in the New York Tri-State area, has been a proud manufacturer of the building industry's most diverse offerings of steel framing components and accessories for use in the construction of commercial, institutional and residential structures. With manufacturing plants in Edison, New Jersey and Hattiesburg, Mississippi, Super Stud is a multi-regional steel framing and accessories manufacturer committed to quality products, unmatched service, competitive pricing and timely deliveries across the entire East Coast and beyond. Super Stud plays an active role in the steel framing industry, participating in the American Iron and Steel Institute (AISI), the Association of Walls and Ceilings International (AWCI), ASTM International, and the Steel Framing Alliance (SFA).
About the Cold-Formed Steel Engineers Institute (CFSEI) CFSEI is a must-have technical and professional resource for designers of cold-formed steel structures. The CFSEI is made up of hundreds of structural engineers and other design professionals who are finding a better way to produce safe and efficient designs for commercial and residential structures with cold-formed steel. If you are an engineering or design professional -- the CFSEI is where you'll find the latest technical information, tips, and industry standards. Visit CFSEI's website to learn more.