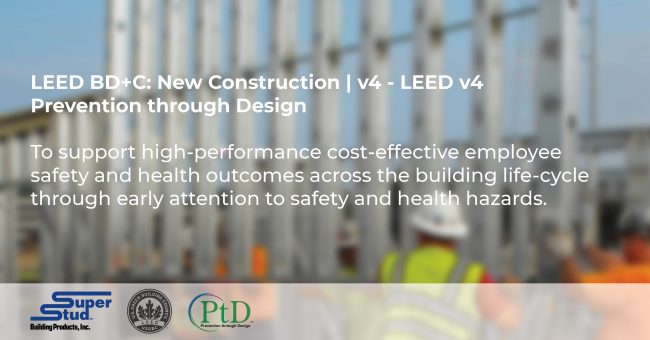 EDISON, NJ– Super Stud Building Products, Inc. is excited to share the features and benefits of The EDGE™ steel framing drywall system, the safest performance framing system the building industry has to offer. The rolled-edge steel safety system features lightweight and high-strength steel combined with a design that incorporates a closed triangular lip, making The EDGE™ not only the safest choice on the market but also a sure fit for contractors, architects and specifiers looking to take advantage of the Prevention through Design (PtD) pilot credit from the U.S. Green Building Council (USGBC).
The USGBClaunched a pilot credit on PtD as an innovation credit for projects pursuing certification under the Leadership in Energy and Environmental Design (LEED)green building rating system. If successful in the competitive environment of projects seeking LEED certification, the pilot credit could be integrated into new releases of the rating system. The LEED pilot credit process allows testing of new credit ideas in the context of real projects, allowing them to be refined and vetted before including them in USGBC's Innovation Credit Library or incorporating them into new releases of the rating system. Pilot Credits are each worth 1 LEED point, and that point is earned within the innovation category. Pilot credits are typically ideas and strategies that are entirely new to LEED.
The EDGE™ Framing System & Prevention through Design
The concept known as Prevention through Designrefers to designing facilities, processes and products in a way that minimizes workplace hazards and risks not only to the people who will use them, but also to those who construct them. The intent of the credit is to reduce injuries and illnesses by supporting high-performance, cost-effective employee safety and health outcomes across the building life-cycle by designing structures that reduce or eliminate potential safety and health hazards. Beginning in pre-design and continuing throughout the life of the building, the program promotes safety and health synergies across key building life-cycle stages and includes the owner's project requirements, basis for design, design documents, and construction documents.
When developing the EDGE™ steel framing system, Super Stud looked at the opportunity of creating a product that was synonymous with safety while increasing structural and acoustic performance. One primary goal was to eliminate virtually all sharp edges, increase productivity, and reduce compensation claims – at no extra cost to customers. The framer-friendly system accomplishes what Super Stud set out to achieve; creating instant value and closing the gap between safer installations and injury prevention. The EDGE™ drywall system supports the goals of the USGBC's pilot credit.
"Our innovative steel framing system truly impacts the bottom line," says Ray Frobosilo, Founder and President of Super Stud Building Products. "Whether an architect, engineer, construction manager, contractor, builder or jobsite employee, you'll feel the difference in our studs and track. The EDGE TMmakes safety a tangible reality, and not just a buzzword.
According to the most recent U.S Department of Labor Bureau of Labor Statistics' Survey of Occupational Injuries and Illnesses,more than half of the drywall and insulation contractor injuries occur to body parts that come in contact with drywall studs. According to Occupational Safety and Health Administration (OSHA) research, while the 'fatal four' (falls, caught between objects, electrocution, and being struck by an object) account for nearly 57% of construction deaths – the majority of remaining nonfatal injuries can be attributed to cuts and similar injuries. These staggering statistics make The EDGE™ a necessity in the construction industry.
The pilot credit promotes a cross-disciplinary "safety design review," providing a list of systems to consider and safety design review outcomes and building product specifications such as the EDGE™  that make for a safer job site. In addition, the pilot credit targets the long-term safety of the building.  When maintenance and facilities management personnel are working above a ceiling or in a wall, the chances of cuts and combustible flare-ups are significantly reduced by using the EDGE™ steel framing. This is not just during construction, but all the way through the life-cycle of the building including operation and ultimately de-construction and recycling. If the building is slated for adaptive reuse, the EDGE™ remains the safest choice in drywall framing.
Responding to the LEED Pilot Credit
For Construction, the focus is on the building process—both conventional and LEED-related topics.  The pilot credit provides a list of topics to guide the review, such as building re-use and work at height.  Examples of safety constructability review outcomes could include a decision to use steel columns that arrive on site with pre-drilled holes for insertion of fall protection lines that would facilitate temporary fall protection for construction workers; or a decision to utilize the EDGE™ framing system to minimize cuts and lacerations.
"It's simple – The EDGE™ solves the problem of too many people getting hurt in one of the most dangerous professions. Safety is not just a numbers game, these are real people interacting with our products, and increasing safety measures at the product level is a priority." said Frobosilo. In addition to enhanced fire and sound ratings, increased wall heights and being UL® Certified, the EDGE™ is a prime example of Super Stud's commitment to safety and wellbeing of job-site employees. Super Stud is pleased to offer a full spectrum of design-build solutions that go above and beyond minimum requirements and the status quo.
This pilot credit grew out of efforts motivated by a National Occupational Research Agenda (NORA) Construction goal to increase the use of Prevention through Designby integrating safety and health into green rating systems.  The National Institute for Occupational Safety and Health (NIOSH)originated a partnership with USGBC to build an association to explore the relationship between occupational safety and health and sustainable building practices.  One of the best ways to prevent and control occupational injuries, illnesses, and fatalities is to "design out" or minimize hazards and risks. NIOSH leads the national initiative, highlighting its importance in all business decisions.
Click the link to learn more about The U.S. Green Building Council (USGBC) credit, "Prevention through Design," and its Leadership in Energy and Environmental Design (LEED) https://www.usgbc.org/credits/preventionthroughdesign
To utilize the EDGE TMdrywall framing safety specifications on your next project, visit www.buysuperstud.com/architectural-specifications, for Division 9 specifications (section 09 22 16).
About USGBC
The vision at the U.S. Green Building Council (USGBC) is that buildings and communities will regenerate and sustain the health and vitality of all life within a generation. USGBC's mission is to transform the way buildings and communities are designed, built and operated, enabling an environmentally and socially responsible, healthy, and prosperous environment that improves the quality of life.
About NORA
The National Occupational Research Agenda (NORA) is a partnership program to stimulate innovative research and improved workplace practices. Unveiled in 1996, NORA entered its third decade (2016-2026) with an enhanced structure. It now consists of ten industry sectors based on major areas of the U.S. economy, and seven health and safety cross-sectors organized according to the major health and safety issues affecting the U.S. working population.
About Super Stud Building Products
Since 1973, Super Stud Building Products, Inc., with its roots in the New York Tri-State area, has been a proud manufacturer of the building industry's most diverse offerings of steel framing components and accessories for use in the construction of commercial, institutional and residential structures. With manufacturing plants in Edison, New Jersey and Hattiesburg, Mississippi, Super Stud is a multi-regional steel framing and accessories manufacturer committed to quality products, unmatched service, competitive pricing and timely deliveries across the entire East Coast and beyond. Super Stud plays an active role in the steel framing industry, participating in the American Iron and Steel Institute (AISI), the Association of Walls and Ceilings International (AWCI) and the American Society for Testing and Materials (ASTM), (SFA). To use The EDGE™ on your next project visit our website at buysuperstud.com.