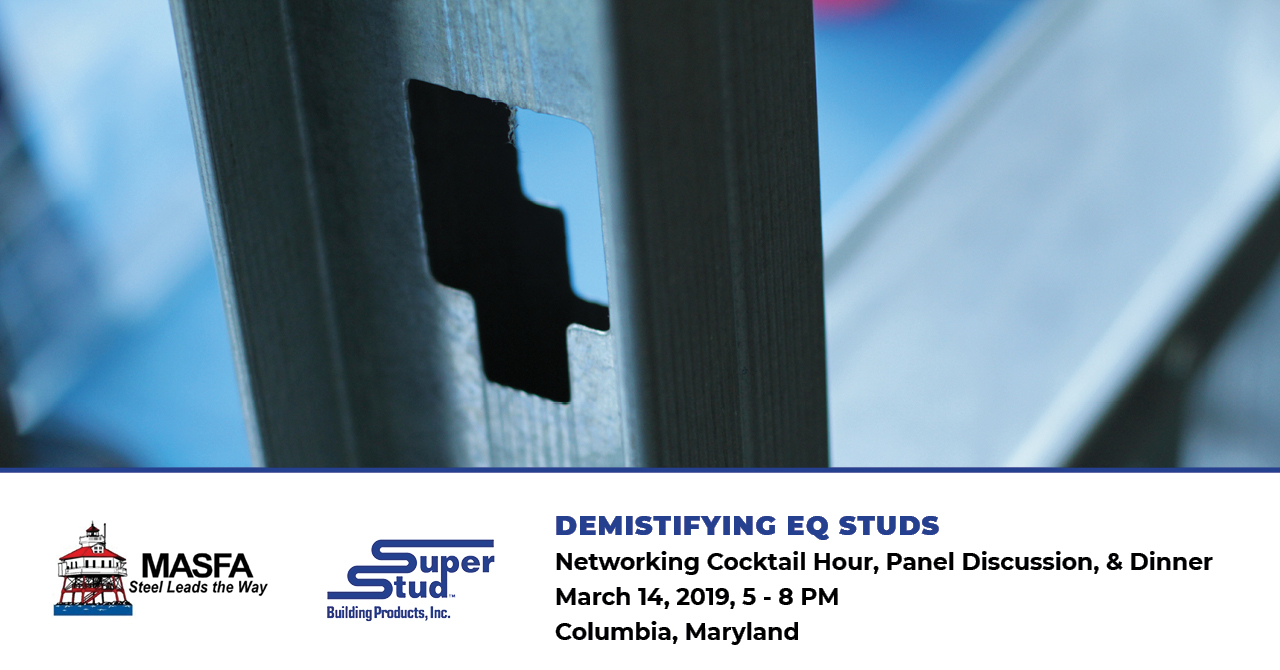 Don Allen, P.E., Director of Engineering at Super Stud Building Products, will be part of a cold-formed steel framing panel discussion sponsored by the Mid-Atlantic Steel Framing Alliance (MASFA) entitled Demystifying EQ Studs. Steve Beach, Sales Representative for Super Stud and MASFA Board of Directors Member, will also be representing the multi-regional cold-formed metal framing manufacturer.
Don Allen will discuss Super Stud's EQ products, framing innovations, and best practices for contractors and building professionals. As exclusive manufacturers of the EDGETM EQ drywall framing system, Super Stud provides the safest framing products in the building industry. The EDGETM features lightweight high-strength steel combined with a design that incorporates a closed triangular lip, ribbed flanges and web, making The EDGETM the safest and strongest choice on the market. Don and other EQ stud manufacturers will discuss how EQ stud technology creates instant value to contractors and owners by narrowing the gap between cost and performance, and provides green building benefits by using less steel for the same performance.
To sign up for this event, visit MASFA's website today. 
---
Agenda Highlights (Courtesy of MASFA):
Up until the past 10 years or so, no engineering was required, and everyone just knew what was necessary for interior, non-structural framing.  But that is changing.  Manufacturers have developed various proprietary studs that may benefit the contractor and the project over the use of standard drywall studs.  These new products have become known as "EQ" studs in the industry, with several different products out there from multiple manufacturers.  Confusion has ensued, and there are many instances now in which architects, contractors, structural engineers, and building officials are searching for help to understand and get guidance on the proper use of these new non-structural products.  This session will consist of a panel of experts and manufacturer's representatives who will enlighten attendees with knowledge and their experiences with the "EQ" products, as well as answer questions.
Event Details:
Location:
Union Jack's British Pub, Columbia
10400 Little Patuxent Pkwy
Columbia, MD 21044
Attendee Cost:
$50 for MASFA members
$60 for non-members
Sponsorship Cost:
$250 which includes one dinner, a tabletop to display your company's products/services, listings in event promotional material (including mailings), and an opportunity to speak to the group for five minutes.
---
About MASFA
MASFA increases the number of projects designed in cold-formed steel through education and training of architects and engineers, making it easier for contractors and building professionals to get projects through permit by training local code officials. MASFA also makes it easier to find qualified skilled labor by training the labor force as well as sponsoring research and development projects that help bring new materials, tools, and methods to the marketplace. MASFA is affiliated with the national Steel Framing Alliance, an organization dedicated to expanding the use of cold-formed steel on a national level through advocacy and education. SFA continues to develop tools that are critical to bringing the cost of cold-formed steel construction down. They have established alliances with major manufacturers of steel framing components. For more information, or to become a registered member of MASFA, visit www.masfa.com. 
---
About Super Stud Building Products
Since 1973, Super Stud Building Products, Inc., with its roots in the New York Tri-State area, has been a proud manufacturer of the building industry's most diverse offerings of steel framing components and accessories for use in the construction of commercial, institutional and residential structures. With manufacturing plants in Edison, New Jersey and Hattiesburg, Mississippi, Super Stud is a multi-regional steel framing and accessories manufacturer committed to quality products, unmatched service, competitive pricing and timely deliveries across the entire East Coast and beyond. Super Stud plays an active role in the steel framing industry, participating in the American Iron and Steel Institute (AISI), the Association of Walls and Ceilings International (AWCI), ASTM International and the Steel Framing Alliance (SFA). To learn more, visit  buysuperstud.com.