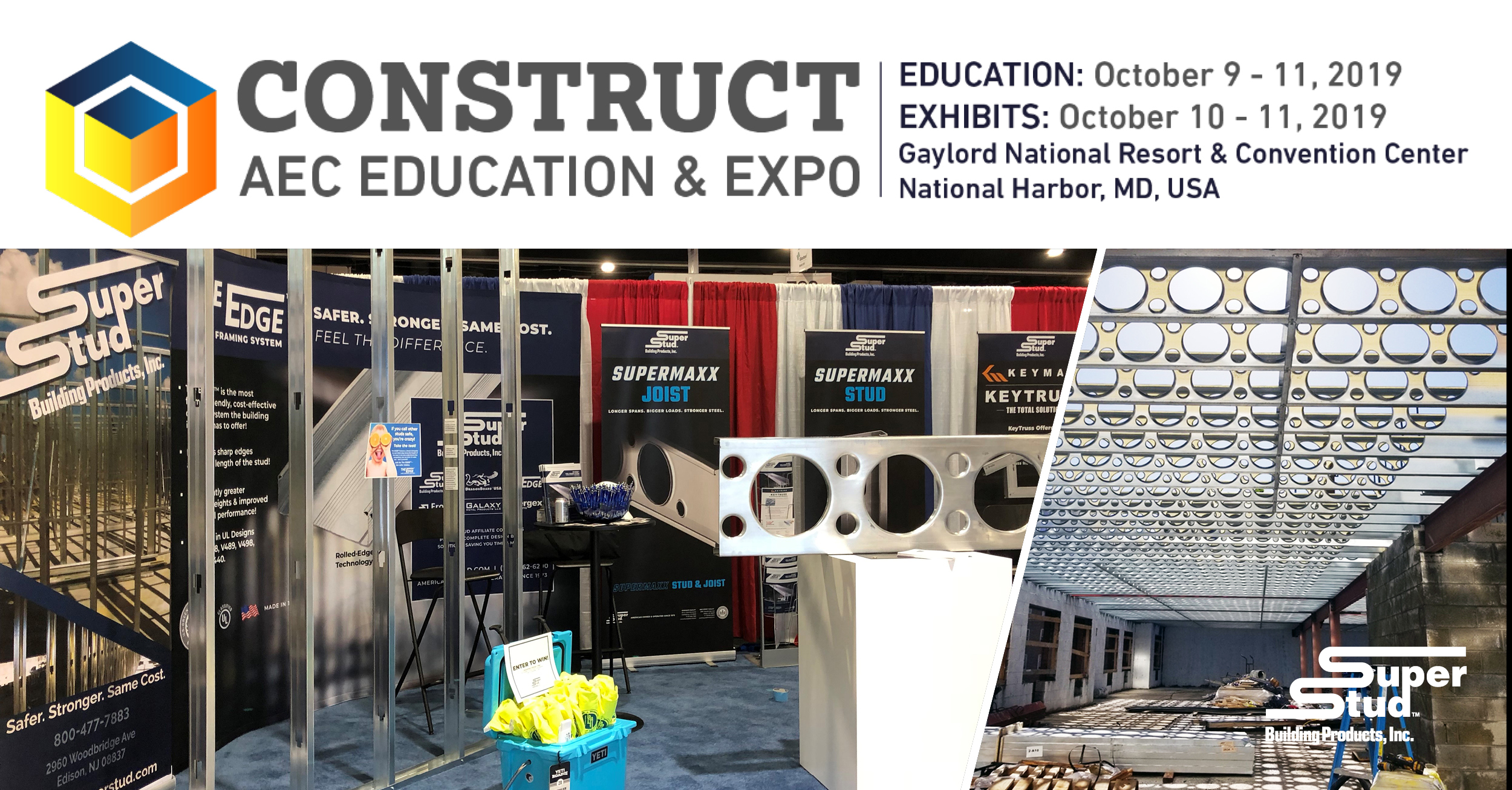 Super Stud Building Products will be exhibiting at this year's CONSTRUCT AEC educational program and exhibition in National Harbor, Maryland. Super Stud will be focusing on flagship products such as the EDGE interior drywall framing system and the SuperMAXX Joist system. Super Stud will be at booth #1041 of the Gaylord National Convention Center, so stop by and learn how our structural and non-structural steel framing products and services can support your project goals. . 
Don Allen, P.E., Engineering Director at Super Stud Building Products will be conducting an education session focusing on acoustical performance strategies in multifamily environments on Friday, October 11th from 7:45am to 8:45am. "As the industry evolves with new products and innovative processes, we are building smarter buildings in shorter periods of time," explains Allen. "With that, there are certain sacrifices that are made along the way when compressing schedules and integrating new technologies into construction methods. From the architectural design and interior finishes, to engineering optimal building performance and construction methods, many of these decisions are predicated primarily on time and budget constraints, which often lead to unintended consequences in the finished structure."
Acoustical performance issues have had an inordinate impact on multifamily: where developers try to work within increasingly complex building codes, new building methods and aggressive timelines. Within the complex intermingling of systems that our multifamily buildings have become, one critical constraint 'rings' true -- the need for sound attenuation. From size and configuration, to quality of a build, down to the floor limitations and appearance, participants will take a deep dive into optimizing acoustical performance in various scenarios. Allen's session will highlight sound assemblies in mid-rise and multifamily that create opportunities for better outcomes and quieter dwellings.
Show Dates and Location:
Education: October 9-11, 2019
Exhibits: October 10-11, 2019
Venue: Gaylord National Resort & Convention Center
Location: National Harbor, MD
About CONSTRUCT 
CONSTRUCT provides a platform for exploring and refining innovative solutions to solve complex problems facing the AEC industry today.  During the three-day educational program and two-day expo, industry leaders converge with a common goal of educating and inspiring for the betterment of the industry. From emerging professionals to influential industry veterans, AEC professionals can refine their skills and increase their knowledge that will in turn give them a competitive edge in their field. At CONSTRUCT you can earn continuing education credits, network with peers, and see the latest in products and services from top manufacturers. To learn more and register, visit CONSTRUCT's website. 
About Don Allen, PE, LEED AP
Don is an internationally known expert in cold-formed steel design, who serves as Director of Engineering for Super Stud Building Products. Allen chairs the Education Committee of the American Iron and Steel Institute, is actively involved in the development of ASTM and AISI standards, and has designed projects in Europe, Africa, and North America. In addition to working for steel product manufacturers, Allen has spent more than a decade in private practice and served over nine years as technical director for the Steel Stud Manufacturers Association (SSMA), the Steel Framing Alliance (SFA), and the Cold-Formed Steel Engineers Institute (CFSEI). Allen is the 2013 winner of the CFSEI's annual Distinguished Service Award.
About Super Stud Building Products
Since 1973, Super Stud Building Products, Inc., with its roots in the New York Tri-State area, has been a proud manufacturer of the building industry's most diverse offerings of steel framing components and accessories for use in the construction of commercial, institutional and residential structures. With manufacturing plants in Edison, New Jersey and Hattiesburg, Mississippi, Super Stud is a multi-regional steel framing and accessories manufacturer committed to quality products, unmatched service, competitive pricing and timely deliveries across the entire East Coast and beyond. Super Stud plays an active role in the steel framing industry, participating in the American Iron and Steel Institute (AISI), the Association of Walls and Ceilings International (AWCI), ASTM International and the Steel Framing Alliance (SFA). To learn more, visit  buysuperstud.com.